Archive, Day: 49 • 47 • 46 • 45 • 44 • 43 • 42 • 40 • 39 • 38 • 37 • 36 • 35 • 33 • 32 • 31 • 30 • 29
Omer Counting Journal FAQ • Home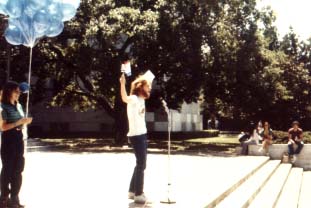 Shai Gluskin at Israel Independence Day Rally,
Sproul Plaza, UC Berkeley, CA, May, 1981
Today is the 47th day of the omer (May 23-24, 2001) which is hod in malkhut:
"Viva Israel, Viva El Salvador"
Being a leftist and a Zionist on campus was a little unusual. There were about ten of us. Representing the "Socialist Zionist Alliance" I got my three minutes under the sun to speak at the Israel Independence Day rally.
Just before my turn to speak I went over to the "Liberate El Salvador" table and picked up a Salvadorian flag. I got up there waving Israeli and El Salvadorian flags and attempted to equate the two struggles.
Sometimes the imaginative echoing of hod finds a voice in this world (malkhut) to speak of connections and possibilities that break convention, thereby bringing us closer to wholeness.
Most people probably thought I was psychotic. I felt very good.
Shai Gluskin
E-mail me.
---
Check out the JRF web site at: http://www.jrf.org