Archive, Day: 49 • 47 • 46 • 45 • 44 • 43 • 42 • 40 • 39 • 38 • 37 • 36 • 35 • 33 • 32 • 31 • 30 • 29
Omer Counting Journal FAQ • Home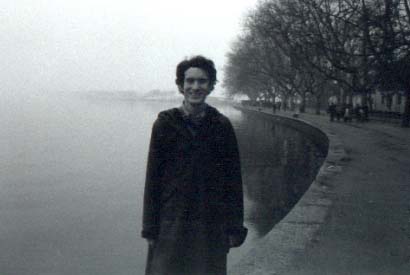 Shai Gluskin by West Lake, Hangzhou, China,
February, 1984 Photograph by Suzanne Pemberton
Today is the 46th day of the omer (May 23-24, 2001) which is netzach in malkhut:
It's a Long and Winding Road
The midrash says Moses spent 40 years in Egypt, then 40 years as a shepherd, and 40 years as the leader of the Jewish people. Netzach in Malchut correlates to the 40 years he was a shepherd. It was a period of deep learning, of inner work, and of not knowing what his ultimate life work would be.
The photograph shows a clear path bounded by the misty lake and trees. I am between the mist and the path. Though the path provides direction and clarity, the mist is also helpful. For the feet following the path are not the feet of a leader. The leader in me is still forming, and the mist is critical in helping my message to be birthed.
Patience.
Shai Gluskin
E-mail me.
---
Check out the JRF web site at: http://www.jrf.org